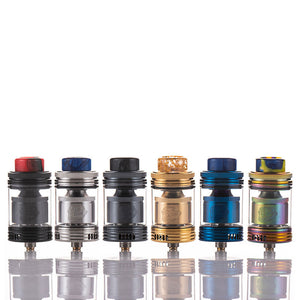 Wotofo The Troll X 24mm RTA
The Wotofo Troll X 24mm Rta Vape Tank is the latest line up of the Troll series. With a post-less build deck, so it can accommodate single or dual coils, while still leaving a large space for easy building. Retaining its minimalistic design and feature-packed in engineering, the Troll X produces amazing clouds and flavor all packed in a user friendly building experience. Made of stainless steel frame and PCTG tube. 
Product Features:
Advanced Inflow Air Diffusion Solution: An airflow insert is added to diffuse the air through its specially designed slots and surrounds the coils with streamed airflow evenly to enhance flavor production. 
Super Easy Air Mode Switching: There are two airflow inserts included in the package, with differently shaped slots (honeycomb dot & slim groove). The inserts are designed to sit firmly on the deck with push-pull switching, in this way, you can switch airflow modes freely without having to uninstall the coils.
Flexible Air Control With Triangular Air Balancing System: After the air entering through the triangularly distributed bottom inlets, the air immediately gets stabilized by the air balancing structure inside. Results in a more smooth, controllable, and high-quality air supply. 
Optimized Chamber Space With Post-less Deck Design: The Troll X RTA features a post-less build deck, so it can accommodate dual coils while still leaving large space for easy building inside its compact chamber.
Push open top cap:  Easy Refill without Leak.
Product Specification 
Height: 36mm (without drip tip & 510 pin)
Deck Diameter: 24mm
Drip Tip: 810 resin drip tip
E-liquid Capacity: 3.0ml straight PCTG tube for Standard Edition

4.4ml bubble glass tube included

Filling Method: Top filling
Airflow Type: Bottom airflow
Coil Type: Wire Coil
Coil Type: Single/Dual Coil
Insulator Material: German PEEK
Threading: 510 thread
Product Includes
1 x The Troll X RTA

2 x 0.33ohm Ni80 Framed Staple Clapton

2 x 3mm Thick Cotton Strip

2 x Airflow Inserts

1 x 4.4ml Bubble Glass Tube

1 x Coil Trimming Tool

1 x Cross Head Screwdriver

1 x Accessory Bag

1 x User Manua