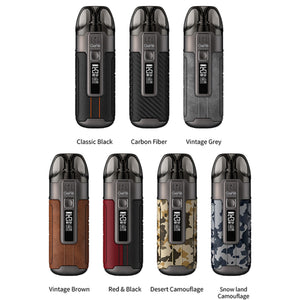 VooPoo Argus Air 25W Pod System
VooPoo Argus Air is a compact and simplified version of the Argus GT. The Argus Air features a internal 900mAh battery, a refillable 3.8ml e-liquid capacity, 5 to 25W output and the PnP Replacement Coils which are designed for high nicotine. This device adds even more customization with the use of two different pod cartridges. 

The VooPoo Argus Air offers a compact size perfect for any day to day use; measuring a mere 95.3mm by 31.4mm by 19.3mm. Integrated within the device is a GENE.TT Chip-set which grants the device a wattage output of 5 to 25W. Operation of the device is simple with the single fire button and air sensor, users can fire via inhale. Located on the front of the device, below the fire button is a Color LED screen which provides the users a clear readout of the battery life, wattage, power mode, ohm level and puff counter. Powering this device is an internal 900mAh battery which can be recharged. In turn this will limit charging down time and allow for a fully charged battery thanks to the help of a USB Type-C.

Moving forward, the VooPoo Argus Air Replacement Pods remain fairly compact while maintaining a comfortable fit within the devices contact port. The pod itself has a built in drip tip and a strong magnetic connection with a 510 base. This system allows the Argus Air to have a comfortable vaping experience for users overall while maintaining a simplistic setup. Refilling each Pod is a simple task, simply remove the pod from the top of the device and unplug a single silicone insert located on the lower bottom side of the pod. From there users can fill it up with any freebase e-liquid. With a maximum juice capacity of 3.8ml and a vast amount of various PnP Replacement Coils this device offers a great vaping experience for new and seasoned vapers alike. The two pods offered in the packaging come in different styles, one having a replaceable coil and the other with a non-removable coil. With so many great features packed inside the VooPoo Argus Air it is sure to be the go to Starter Kit for those looking for a simplistic, straight forward kit.
Product Specifications
All in One System

Draw Activated Firing
Single Fire Button
GENE.TT
3.2 to 4.2V Working Voltage
0.6 to 3.0 ohm Atomizer Resistance
Compact Size

95.3mm by 31.4mm by 19.3mm

OLED Color Display

Battery Level
Power Level
Voltage
Wattage
Ohm Level
Puff Counter

Refillable Pod Style Tank System

3.8ml Capacity
Two Styles

One Non-Replaceable Coil Pod
One PnP Replaceable Coil Pod

PnP Replacement Coils

PnP-M2

0.6 ohm
Mesh Coil
20 to 28W

PnP-R1

0.8 ohm Coil
Dual Coil
12 to 18W

PnP-C1

1.2 ohm Coil
Ceramic Coil
10 to 15W

PnP-VM4

0.6 ohm Coil
Mesh Coil
20 to 28W

PnP-VM1

Silicone Stopper
Proprietary Connection
Magnetic Connection

Plug and Play Connection

Gold Plated Proprietary Connection
Pod Acts as Tip

Solid Zinc Construction

Leather Panel Accents
Resin Panel Accents

Rechargeable Battery


900mAh
USB Type-C Charging Port
Product Includes
One Argus Air Device
One Argus Air Pod
One Argus Air Standard Pod
One PnP-TM1 Coil
One User Manual
One USB Type-C Charging Cable