Smok Stick X8 Kit - 3000mAh
SMOK Stick X8 Kit, stands out among similar products. It is made of stainless steel that possess superior corrosion resistance. Still, from the perspective of its design, it is designed to resemble a pen and you can carry it around and put it into your pocket, and importantly, it is an outstanding device for travelers as they can travel around the world with it and enjoy an comfortable and pleasure vaping experience. STICK X8 KIT is divided into eight parts including drip tip, top cap, glass tube, base, battery and power button, LED indicator and 510 connector.
When it comes to its mod, it is powered by built-in 3000mAh battery, allowing this kit more powerful and durable when using it. In addition, it also generates a massive clouds of vapor thanks to its high-power. It also accepts the 3.4v - 4.2v supply voltage range. What surprised us most is that the mod is equipped with an innovative and intelligent battery life indicator. Keep track of battery level according to the changes in LED light. If the light flashes 4 times each time when you should take a puff. If the light blinks 15 times, it shows that the battery should be charged as the voltage drops lower than 3.7v. It still provides multiple layers of protection, such as 8 seconds protection, low resistance protection, short circuit protection, and low voltage protection. 
The STICK X8 KIT adopts innovative swivel type top fill and large e-liquid slot, allowing vapers to move the top cap to fill the e-juice into the tank conveniently. Adjustable airflow control ring with 2  large airflow slot sits below the drip tip, via which you can experience different taste and clouds of flavor. Below it, it is a glass tube which is characterized by heat insulation. The coil is also divided into two types, such as TFV8X-babyM2 (pre-installed) and TFV8X-babyX4Core (kit includes). The former can bring you a smooth and cool taste, and the latter will produce a cool and silk flavor, both of which bring you into a different vaping world.
Features
§   Compact size with 45W power
§   Big and ergonomic fire key
§   Various circuit protection
§   All-new EC2 coils 
§   Portable pen-style size
§   All-new top airflow system
§  Innovative and intelligent battery-life indicator
§   Multiple automatic protection
§   2 large airflow slot sits
Parameters
| | |
| --- | --- |
| |   |
| Brand | SMOK |
| Size | 24.5mm x 85mm |
| Battery | Built-in 3000mAh Battery |
| Voltage Range | 3.4V - 4.2V |
| Standby Current | <200uA |
| Material | Stainless Steel |
| Thread | 510 |
| Color | Rainbow, Red, Blue, Stainless Steel, Gold, Black |
|   |   |
| |   |
| Brand | SMOK |
| Capacity | 2ml(EU Edition), 4ml(Standard Edition) |
| Size | 24.5mm x 57mm(2ml), 24.5mm x 59mm(4ml) |
| Coil | X Baby Q2 dual coil - 0.4ohm (40-80W)/ X Baby M2 dual coil - 0.25ohm (3.7V MECH MOD) |
| Thread | 510 |
| Material | Stainless Steel |
| Color | Rainbow, Red, Blue, Stainless Steel, Gold, Black, Purple, Green |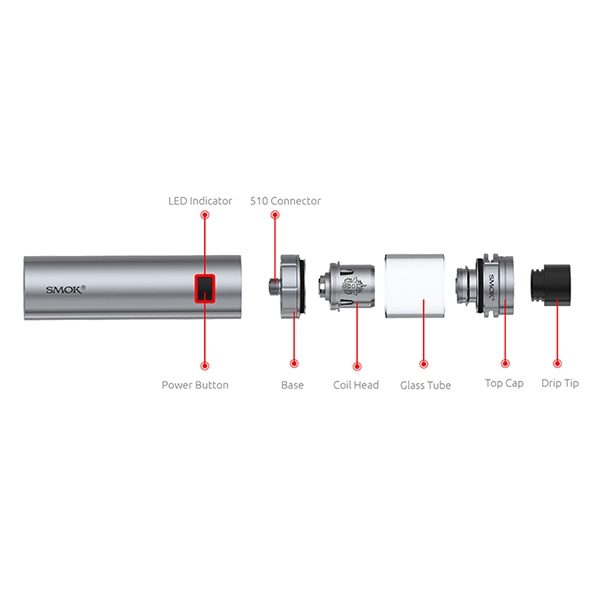 Package Included
Smok TFV8 X-Baby Tank Standard Edition
§   1 x Smok Stick X8 Battery
§   1 x TFV8 X-Baby Tank (4ml) 
§   1 x TFV8 X-Baby M2 0.25ohm Dual Coil (pre-installed)
§   1 x TFV8 X-Baby X4 0.13ohm Quadruple Coil
§   1 x USB Cable
§   1 x User Manual
§   1 x Vape Band
§   Spare Parts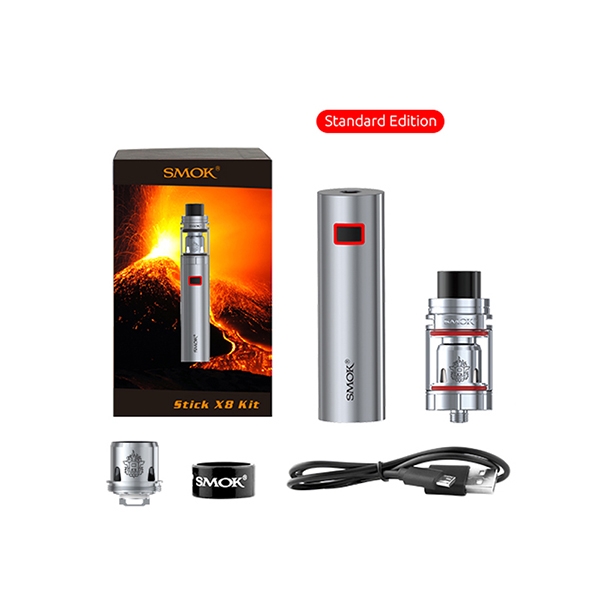 Smok TFV8 X-Baby Tank EU Edition
§   1 x Smok Stick X8 Battery
§   1 x TFV8 X-Baby Tank (2ml) 
§   1 x TFV8 X-Baby M2 0.25ohm Dual Coil (pre-installed)
§   1 x TFV8 X-Baby M2 0.25ohm Dual Coil
§   1 x USB Cable
§   1 x User Manual
§   1 x Vape Band
§   Spare Parts
 This product will include a 30 day Limited Warranty against any manufacturing defects from the date of delivery. Scratches and discoloration from regular use is considered normal wear and tear and is not covered by warranty. 

Vape Domain will not be held responsible or liable for any injury, damage, or defect, permanent or temporary that may be caused by the improper use of a LI-ION battery. Please have a basic understanding of the batteries you are using and how to care for them properly