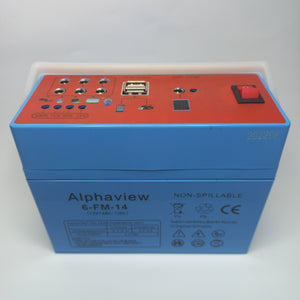 ALPHAVIEW 6-FM-14 12.6V 14Ah LITHIUM BATTERY
DESCRIPTION:
This Lithium-ion UPS is a compact and affordable Uninterrupted Power Supply (UPS) solution
designed to keep you online during power outages and load shedding.
The unit is permanently plugged into the wall socket and your devices,
there are six available ports, one to power your router and the other to power your fiber box if required.
or your CCTV camera's and DVR/NVR
or LTE router
or Wi-Fi repeaters
Also has 2 x USB ports for 5V item (charging Cellphone's or TV box etc..)
During a power outage, the box will automatically switch from Eskom power to battery power,
providing you with an uninterrupted connection.
When the power switches back on the device will automatically switch from battery mode to AC wall power mode charging the UPS and powering your devices. (No drop of connection during switchover)
SOLAR READY Substitute charger with a solar panel.
SPECIFICATIONS:
Li-ion battery pack 12V 14ah
6 x 12V ports
2 x USB 5v ports
Indication light's to show battery strength
Indication light to show input power(red charging, green fully charged)
on/off switch
CONTENTS:
1 x Li-ion UPS 12V 14ah Battery